My Great-Great Grandfather was Patrick James McArdle.
Birth:
Born on 28 Nov 1863* in County Louth, Ireland to
*The 1900 Census list his birth as March 1865.
Parents:
Thomas McArdle and Elizabeth "Bessie" Etkins.
Patrick's parent's information was obtained from the marriage record. It only list his mother as "Bessie". Later, Patrick had some nieces and nephews living with him. Tracing that name, I was able to locate records for two of Patrick's sisters, Bridget and Catherine. Both of them list Elizabeth and/or Bessie Etkins on various records. I have not yet been able to get to Boston to get a copy of Patrick's death certificate.
Marriage:
Patrick married Sarah Ellen Kelly, born Jan 1869 in Hartlepool, Durham, England, on 8 Nov 1886 in Boston, Massachusetts. Sarah died 15 Dec 1916 in Boston, Massachusetts.
Arrival:
Patrick's arrival in the US was either 1879 (source 1910 Federal Census), 1882 (source Patrick's Petition for Naturalization) or 1885 (source 1920 Federal Census).
Occupation:
For most of Patrick's life, he listed his occupation as a "Peddler". Other documents show him as a produce peddler. He and Sarah also purchased real estate, the first being the home they shared from 1900 until Patrick's death in 1942 at 45 Middlesex Street, Boston. Other documents I have found show other properties purchased by either Patrick and/or Sarah.
Children:
Patrick and Sarah had a total of 10 children.
Thomas James McArdle 1887–1903
Patrick Francis McArdle 1889–1930
Mary McArdle 1891–1891
Joseph Frederick McArdle 1892–1975
Henry G McArdle 1894–1897
John Joseph McArdle 1896–1984
Henry George McArdle 1898–?
William James McArdle 1900–1980
Elizabeth Louise McArdle 1902–1985
Elmira Mary McArdle 1904–1906
Andrew A McArdle 1907–1971
Death and Burial:
Patrick died on 26 Feb 1942 at the age of 81. He is buried with Sarah at Holy Cross Cemetery, 175 Broadway, Malden, MA 02148.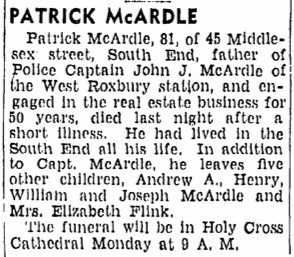 Text of obituary from the Boston Herald

Patrick McArdle, 81, of 45 Middlesex street, South End, father of Police Captain John J. McArdle of the West Roxbury Station, and engaged in the real estate business for 50 years, died last night after a short illness. He had lived in the South End all his life. In addition to Capt. McArdle, he leave five other children, Andrew A., Henry, William and Joseph McArdle and Mrs. Elizabeth Flink.

The funeral will be in Holy Cross Cathedral Monday at 9 A.M.
You can find a photo of Patrick and Sarah's tombstone at FindAGrave.com.
Inconsistencies, Other Information, and What I'm Looking For:
As noted above, his birthdate is listed as 28 Nov 1863 on a variety of documents. The 1900 Federal census list March 1864 as his birthdate. I do not know why this is different from so many other documents I have found – though it is not unusual to have information on a census not match other documents.
Mind you, I did find a record for a Patrick McArdle born in March of 1864 in Louth, Ireland and who's father is named Thomas. I can only conclude this is because the genealogy god amuse themselves by doing this sort of thing. Anyway, that Patrick's mother's name is Mary. The marriage record for my Patrick clearly shows his mother to be Bessie.
There is another Patrick J. McArdle living in Boston at the same time and in the same area (again, those genealogy gods were at it again). The other Patrick McArdle owned a funeral home and is not the same Patrick that I am researching.
I do not have any photos of Patrick and do not have a lot of other information about him. He wasn't written about in the newspaper, wasn't well known, and the facts about his life are not known to me. At this time a trip to County Louth is not possible so I am pretty sure my research has hit it's limits online and at the Family History Center.

Family Tree page on Ancestry.com for Patrick James McArdle